Four teachers from Chamberlain were honored this morning as Teacher of the Month (for several months) by Natalie Yoder and Launa Leftwich of the Boys and Girls Club.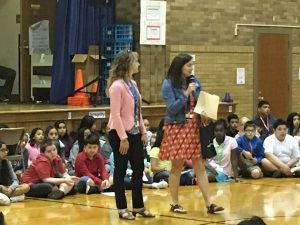 Angela Morelock said this about Mr. Joel Klase: Thank you for being a good teacher and showing us what we do not know. You are the best 5th grade teacher ever. I was really wishing I was in your class, but it's fine, I like Mrs. G's room, but I just wanted you to know that I appreciate you a lot! You make me feel safe when I'm at school even when you are not even with me. P.S. I like you because you are the only man teacher.
Josephine Marquez nominated Miss Megan Krug: She helps my class when they are struggling in school and when I am having problems with my work. She comes and asks me "What are you struggling with?". I would like to nominate my teacher because she is the best, and I would not ask for a different teacher in the world. Even when she has some difficult times she is still the best.
Luna said this about Ms. Angelica Chavez: She deserves it because she gives us a party every month, and helps us when we need help and is nice and funny. Sometimes she is funny and gives us brain breaks every day. She is nice to other teachers in the school.
Daniela also nominated Ms. Chavez: She deserves it because she does her best. And when we need help she helps us. She is nice and kind. She shows a lot of Integrity and Courage at all times. She shows a lot of craftsmanship. And that's why she should be the teacher of the month.
Jace Tinsley nominated Mrs. Carol Kinchen: My teacher also loves me and she can do cool things to help people. She is very nice.