GCS Announces #HeartofaRedHawk Teachers and Staff Members of the Year
Throughout the 2019-20 school year, teachers, staff members, students, parents, and community members nominated teachers and staff members who exhibited the attributes determined to best show the #HeartofaRedHawk, as listed below: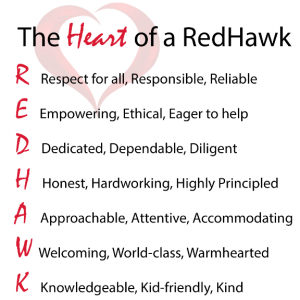 At the end of the year, GCS staff members voted from among their school or building nominees to determine the winners from each individual school and department. The District Teacher of the Year and District Staff Member of the Year were then selected by an Administration Center committee, from among the school and department winners.
The 2019-20 Winners are:
GCS District Teacher of the Year: Ruth Roth, 2nd Grade Teacher
GCS District Staff Member of the Year: Cameron Gruntman, Bus Driver
Chamberlain-Susan Hull, Registrar and Rob Teall, Assistant Principal
Chandler-Kevin Myers, Custodian and Jenna Rusmisel, 5th Grade Teacher
Model-Wendy Clark, Parent Liaison and Ellen Longcor, 3rd Grade Teacher
Parkside-Chris Johnston, Instructor/Collaborator and Mary Brookins, 4th Grade Teacher
Prairie View-Deb Johnson, Technology Resource Coordinator and Ruth Roth, 2nd Grade Teacher
Waterford-Joy McFadden, Special Education Paraprofessional
West Goshen-Vanessa Shoopman, Custodian and Jonathan Pfenning, Special Education Teacher
GMS-Brian Amundson, Head Custodian & Daryl Mishler, Custodian and Katherine Christofferson, School Counselor & Terry Hussey, Master Teacher
GHS-Randy Valderrama, SRO & Daniel Love, Boys/Girls Tennis Coach and Brian Bechtel, Assistant Principal & Katie O'Leary, Music Teacher
Administration Center-Susan Stiffney, Director of Human Resource Services and Moshe Hodges, Technology Associate
ECSEC-Marcia Welsh, Behavioral Consultant and Mary Cone, Public Agency Representative
Transportation-Cameron Gruntman, Bus Driver and Don Graves, Director of Transportation
District winners will receive a $100 gift and school/department winners will receive a $50 gift. Since this was the first year for the #HeartofaRedHawk nominations and awards, some positions, schools, or departments did not have nominees. However, as the GCS recognition program continues to grow year-to-year, we anticipate that more people will take the time to recognize the excellence evident in so many of our GCS teachers and staff.
Thank you to all who participated this year, and congratulations to our #HeartofaRedHawk winners!