GCS Foundation Community Trivia Night
The GCS Foundation held their 5th annual Community Trivia Night fundraiser on October 24th at the Peddlers Village Event Center, and all indications are that the fundraiser was once again a huge success! Everyone had a good time, and in the process they raised approximately $8,000 for the foundation.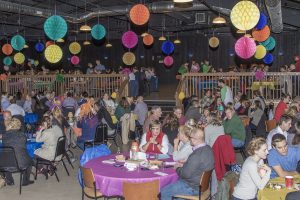 The Goshen Community Schools Foundation is a privately funded educational grant program that strives to improve the innovation and creative experiences for the students of Goshen Community Schools. Founded in 2008 by several Goshen Schools alumni, the Foundation has been able to raise more than $83,000 towards this effort. The foundation encourages anyone to "join us in this quest to assist our area students and teachers."
There were 40 teams entered in the event, made up of educators, business leaders, and community members. There were many awards given at the end of the evening, including: The Top Overall Team; Team Spirit; Top Corporate Team, Top Community Team, Top School Team, and Enrichment Team. Prizes were sponsored by Goshen Brewing Company, Linway Cinemas, Southside Soda Shop, The Nut Shoppe, the GHS Red Zone, Maplecrest Insurance, and Peddlers Event Center.
Pictured below are just a few of the school teams.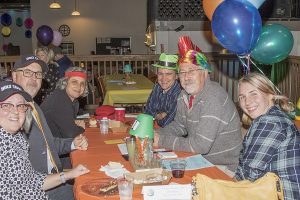 Chandler, looking a little festive for the evening!
GMS, just a little more focused and serious about the event.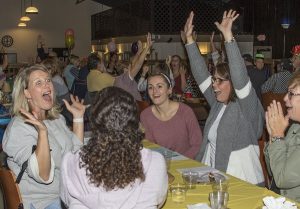 West Goshen, excited and clearly going for the spirit award!
The stated goal of the foundation is "To identify educational projects that we can turn from a dream into a reality that will profoundly impact students in the Goshen community today and tomorrow". Some of the projects they have sponsored thus far are: IB Experience Retreat for GMS students at Ball State, Lego Robotics supplies for Chandler, 3-D printer for GHS & GMS technology, Minds in Motion at elementary schools (with United Way), GMS Academic Superbowl materials, GHS Athletics & Music programs, GCS Orchestra 100th Anniversary Original Composition, GHS Super Mileage program, Guitarion for GMS Mariachi Strings program, and Business & Personal finance software for GHS.
Sponsors for the event (many of whom sponsored groups of teachers who represented their schools) included: Barton-Coe-Vilamaa, Fabric Services, Robert Weed Plywood, Bruce and Barbara Stahly, Goshen Rotary, Indiana Wood Products, Interra Credit Union, Kruggel Lawton CPAs, Miller Poultry, Sorg Dodge, and Yoder, Ainlay, Ulmer & Buckingham.
On behalf of the students and staff members who benefit from the GCS foundation grants, we offer a huge THANK YOU to all of the event sponsors!