Good Morning from Chamberlain!
This morning, we had a chance to visit Mrs. Carol Kinchen's 4th grade classroom at Chamberlain. We soon found out that Mrs. Kinchen's students are very involved in their school! The two students pictured below were outside before the start of school, raising the flag. And it wasn't just the American flag either, these students raised three flags on the flagpole: The American flag, the Indiana State flag, and the EL (Expeditionary Learning) flag. The students in the next picture have also helped raise the flag during this school year (they take turns month by month).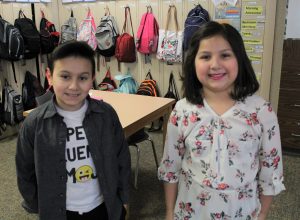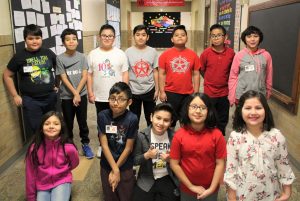 At the beginning of the day, each Chamberlain classroom has Crew. Crew is a time to greet each other and discuss plans for the day. Today's greeting for Crew was "good morning and Happy Valentine's Day!"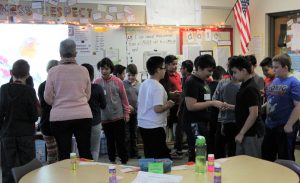 And then Mrs. Kinchen explained that she had a new challenge for her students. She passed out straws, large coffee filters, and tiny, colored "fuzz balls" to each table group and told them that they needed to work together as a group for the challenge. The object of the challenge was to blow through the straw and move the fuzz ball across their desk, into a coffee filter placed on the floor.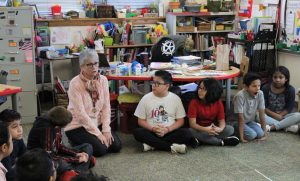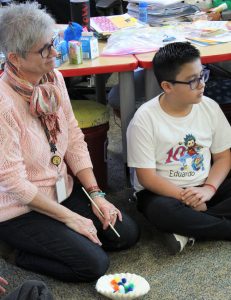 When the students got back to their table groups, Mrs. Kinchen asked them: "Can you do it? Are you up for the challenge? How do we do this? You have to figure it out. Try something, and then plan with your team." After some discussion and practice, the students raced against each other by groups.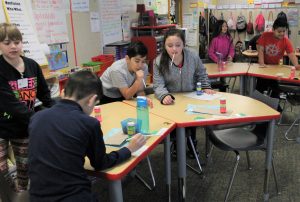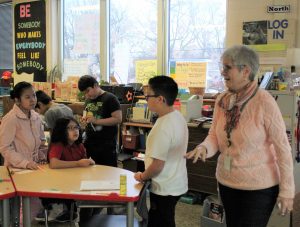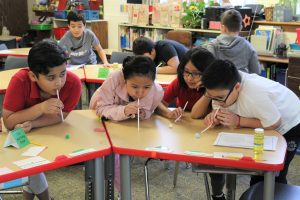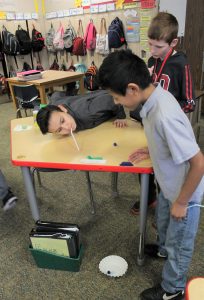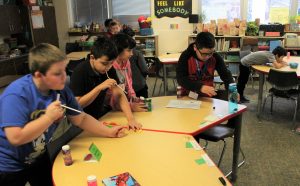 Then, when the students had the hang of it, they tried a new game. This time, the groups were still working together, but they were spread out around the circle. They had to try to get all of their group's fuzz balls into one section of the Tic Tac Toe board. However, there were a few students who were "destroyers" and they could blow any group's fuzz balls anywhere!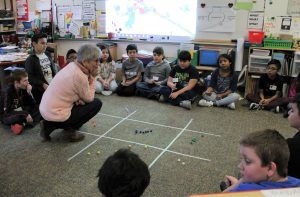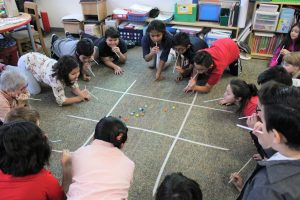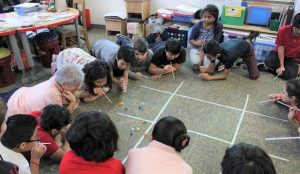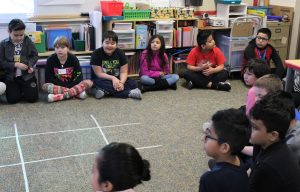 When the students were done with the challenge, Mrs. Kinchen asked them to give her feedback. "What is feedback? What worked, what didn't? Would you want to do this again, or try a new challenge?" And then there was also a short discussion on being a team player, and remembering what it means to be Crew.
The sign below is on the wall in Mrs. Kinchen's classroom, and following their Crew time, it seemed like everyone in the room really was learning how to treat people and to be part of a Crew.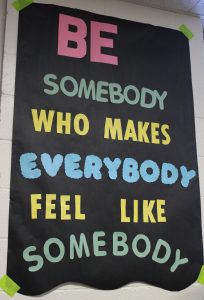 Another job that the students in Mrs. Kinchen's classroom do for their school community is handle ALL of the recycling for the school. They wear their green shirts to let classrooms know that they are on recycling duty when they enter a classroom to collect recycling. But the amazing thing about these students; they give up their recess on recycling days to gather everything up and take all the bins to the curb. We just think that is very responsible, grown-up recycling behavior!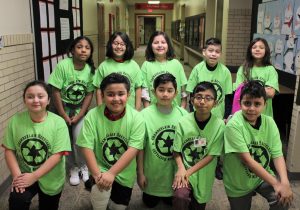 Following Crew, it was time for math. They had used measurements in their challenge, and they continued to work on measurements when they got out their iPads.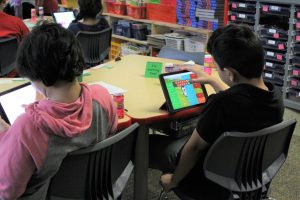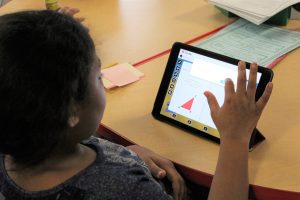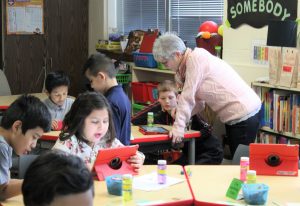 The sign below is in the hallway just outside Mrs. Kinchen's room. We can't think of a better Valentine's message….