Good of Goshen Photo Challenge #RedHawkPride
Calling all supporters of Goshen Community Schools!! We invite you to participate in next week's Good of Goshen Photo Challenge, during the week of April 17-21. Please see below for details. We can't wait to see you chronicle your great RedHawk Pride!!
At the end of the week, the photos will be judged by the Good of Goshen team. The winner will get to see their winning photo as the Good of Goshen's Facebook and Twitter cover photo for an entire month, and will receive a $25 gift card to a local business of their choice!
April: #RedHawkPride  Contest Dates: April 17 – 21  Let's gooooo Hawks! Share your photos that relate to Goshen Community Schools. Whether it be at athletic events, school plays, concerts, field trips, or portraits of teachers or students, we invite you to show us your RedHawk pride.
Rules: To participate in the Good of Goshen Photo Challenge, post photos to Facebook, Instagram, or Twitter with the following hashtags: #RedHawkPride + #GOGPhotoChallenge + #GoodOfGoshen
Photos must be posted within the contest date range in order to be judged. Participants can post no more than three entries.
The winner of each month's contest will be announced on the Monday following the contest week. In order to claim their prize, winner must email goodofgoshen@eyedart.com with their choice of gift card. To pick up their prize, winner must come to the Launchpad (above the Goshen Chamber of Commerce) at 234 South Main Street between the hours of 9 a.m. and 5 p.m. Monday through Friday. Winner must present a valid ID for proof of identity.
All photos entered will be shared on the Good of Goshen Facebook page at the end of the contest week.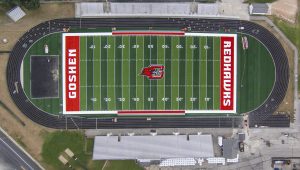 Branden Beachy is an amazing photographer (photo above), but don't let him be the automatic winner, GCS. Participate!! Let's see your RedHawk pride!