Goshen Schools raise food, money for local families in need
In the midst of end-of-the-year exams and projects, Goshen Community Schools students and staff have been collecting goods to help others in the community.
Individual schools and clubs within schools have been collecting food for local families who may not have enough to eat and organizing other fundraisers and projects to help other local families.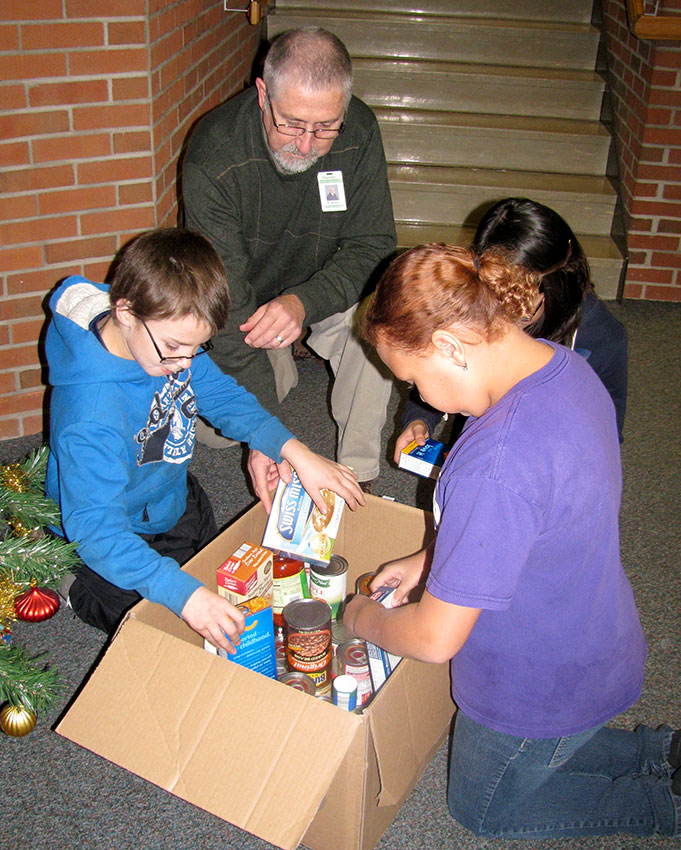 Shelly Banes, a school counselor, has worked at Model Elementary School for 14 years and said that their holiday food drive was established well before she started working there.
"We want to teach our children about helping others in need without expecting anything in return," she said. "It goes along with our Model Bulldog beliefs: Respect, Responsibility, Safety and Kindness. We also do it due to having a lot of families in need during this time of year; their factories shut down over the holidays, or (they're) laid off or out of work or can't make ends meet."
That food is given to Model families in need with remaining food given to the West Goshen Elementary food pantry, the Window in downtown Goshen and the Salvation Army.
It's a way of saying Model is a part of the Goshen community and helping others in the community, Banes said.
This year, Model collected a different type of food item each day for two weeks, bringing in more than 3,000 food items altogether.
Several schools in the Goshen school system hold their own food drives for families in need, while some work with local pantries to provide for families this time of year, like Chandler Elementary, which has collected food for the food pantry at East Goshen Mennonite Church through the month of December. West Goshen Elementary has a food pantry supported by Sugar Grove Church, with numerous other local churches and community groups donating gloves, hats and other winter gear for families in need. Chamberlain Elementary and Waterford Elementary works with Goshen Middle School to supply families in need with food for the holiday season.
Goshen High School holds a school-wide food drive, while individual clubs and groups at GHS hold a multitude of other activities, said GHS Principal Barry Younghans. Many groups volunteer to ring bells and collect money outside stores for the Salvation Army, while others adopt families for Christmas, raising money and buying gifts for families in need. Younghans said those causes also include raising money for the Indiana Organ Procurement Organization and for the Special Olympics, writing answer letters for Santa and helping provide food for the Goshen Middle School food pantry.
Goshen Community Schools' Christmas Break starts Dec. 23. Students return to school Jan. 6.