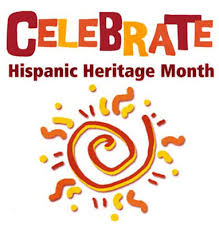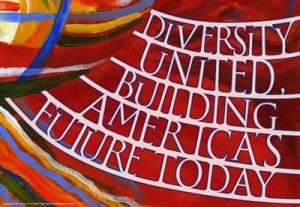 Each year, Americans observe National Hispanic Heritage Month from September 15 to October 15, by celebrating the histories, cultures and contributions of American citizens whose ancestors came from Spain, Mexico, the Caribbean and Central and South America.
The observation started in 1968 as Hispanic Heritage Week under President Lyndon Johnson and was expanded by President Ronald Reagan in 1988 to cover a 30-day period starting on September 15 and ending on October 15. It was enacted into law on August 17, 1988, on the approval of Public Law 100-402.
The day of September 15 is significant because it is the anniversary of independence for Latin American countries Costa Rica, El Salvador, Guatemala, Honduras and Nicaragua. In addition, Mexico and Chile celebrate their independence days on September 16 and September18, respectively. Also, Columbus Day or Día de la Raza, which is October 12, falls within this 30 day period.
For resources to learn more about Hispanic Heritage Month, check out your school library or the Goshen Public Library.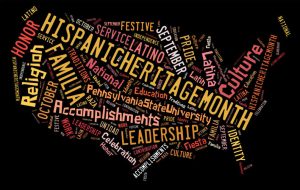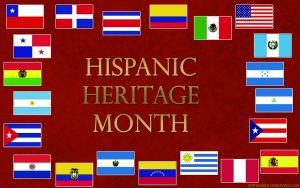 At Goshen Community Schools, we celebrate our culturally rich educational environment, which inspires everyone to learn and grow.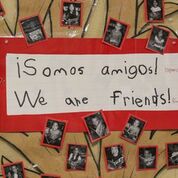 A bulletin board display from one of the elementary schools.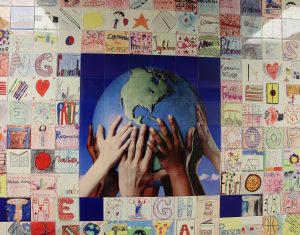 A mural at Parkside.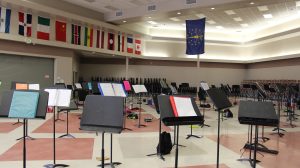 The GHS cafeteria (pictured here during band camp), has flags around the perimeter that represent the countries of origin of GHS students. If a student enrolls from a country that is not yet represented with a flag, the principal orders a new one to represent the student's country of origin. If you go into the cafeteria, you will see that the flags go almost all the way around the room. It is a very visible reminder of the rich diversity present in GHS students and in our schools.