Merit students read with Chamberlain third-graders, benefiting all
A partnership between Merit Learning Center's JAG (Jobs for America's Graduates) students and a Chamberlain Elementary third-grade class is providing encouragement for both sets of students.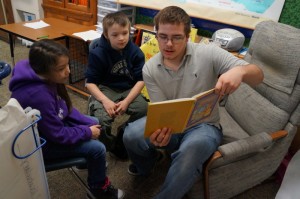 Through the partnership, several JAG students stop by Daniel Gingerich's classroom, reading a book or two to a small group of students, followed by conversations about the book's themes. It provides a reading time for the younger students and a chance for the older students to explore some of their gifts and passions, but also helps both groups build a sense of community and belonging.
The groups plan to meet together at least three times this spring, but hopefully more, according to Shannon Demant, JAG specialist at Merit. Their second time together was Friday, March 7.
As the JAG students entered Gingerich's classroom, several of the third-graders grinned widely and waved excitedly at the JAG mentor they had read with last time.
"The kids have been really excited about it," Gingerich said. "They keep asking about when they're going to come back again. It's been fun to see them develop relationships and make connections."
JAG is a national school-to-work program for at-risk youth and Demant said the experience has been equally as powerful for her students, Demant said.
One student returned from the first trip to Chamberlain talking about how great reading and talking with the third-graders had been and said he may be interested in pursuing a career in elementary education.
"I think for our students the experience was stronger than they had anticipated," said Demant.
The JAG students often do community service projects, but Demant said that when those projects involve making a human connection, they can really raise students' self-worth and value in the community.
Chamberlain Principal Kimberly Branham also sees the power of the two groups working together.
"I'm so thankful for this partnership," she said, "and how it's a win-win for the younger and older students!"