Plymouth Avenue Trail Crossing Update
Plymouth Avenue Trail Crossing Modification Update – Walsh & Kelly and HRP Construction are working to prepare the gravel base for the Plymouth Avenue/SR 119 roadway.  Plymouth Avenue/SR 119 is anticipated to be open to traffic by September 13, 2016.  The Indiana Department of Transportation, Elkhart County and the City of Goshen are working together to coordinate the timelines for closures on the various projects in and around the City of Goshen.  Plymouth Avenue/SR 119 will be re-opened to traffic prior to the closure of the Kercher Road/CR 38 Bridge on September 12, 2016.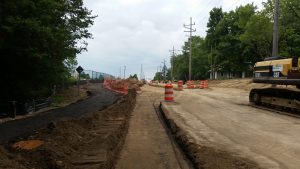 Thank you for your patience, as we anticipate the improvements that the construction will bring to our city and our schools.