United Way: Thank You, GCS Staff!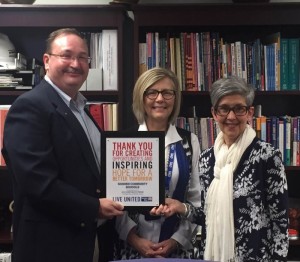 Bill Rieth, of United Way, visited the Administration Center this morning to present a plaque to Assistant Superintendent Tammy Ummel and Superintendent Diane Woodworth, who accepted on behalf of all GCS employees.
Because of the pledges and contributions of staff members, Goshen Community Schools was recognized as a 2016 Corporate Friend of United Way of Elkhart County. Thank you to all GCS teachers and staff, who encourage us all to LIVE UNITED!